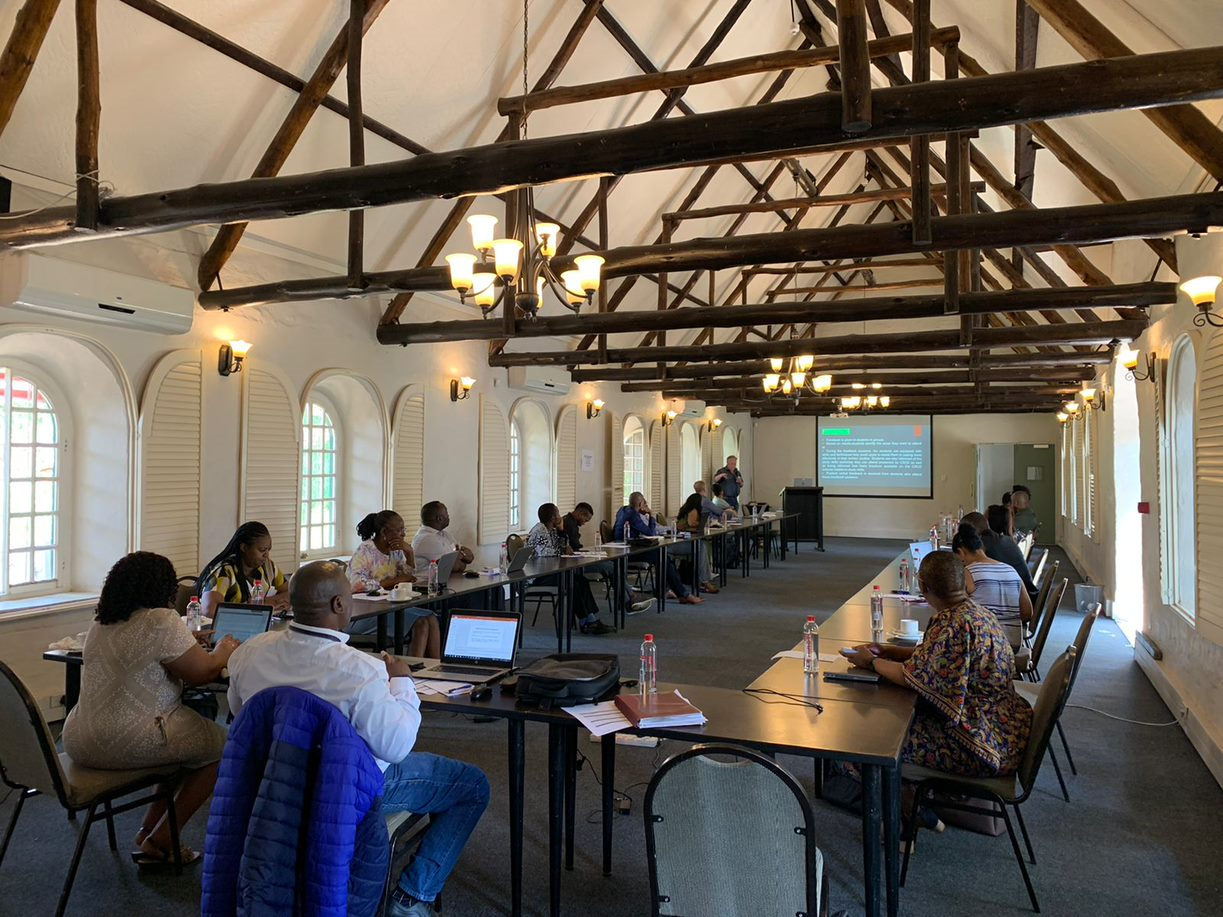 Regional Universities Share Student Success Lessons
Loyiso Maciko
To ensure that as many South African public universities as possible derive benefit from the Saide Siyaphumelela student success initiatives, a regional network approach has been instituted. All universities in a given region, whether they are participants in the Siyaphumelela Network of institutions or not, are invited to participate in these biannual meetings. The key purpose is to build a loose "community of practice" in which the regional universities can share their approach and experiences of improving student success, including lessons learnt, and information about useful resources and tools that they may have developed. It is also an opportunity to discuss challenges or institutional barriers to student success and to put heads together to identify possible solutions.
In October, the second Gauteng regional network meeting was hosted by the University of the Witwatersrand (Wits). Participants from six universities (University of Johannesburg, University of Venda, University of Limpopo, Vaal University of Technology and the University of Mpumalanga) collectively reflected on institutional initiatives for the improvement of student success.
The two-day gathering opened with an insightful address by Professor Lindelani Mnguni from Wits. In highlighting the importance of the Siyaphumelela (We Succeed) student success initiative in higher education, he emphasised the use of the collective pronoun 'we' and advocated for collaborative efforts, a shared learning orientation, and the inclusion of student perspectives for the attainment of what he referred to as "Authentic Student Success". His presentation further emphasised the need for the student voice to be part of the institutional agenda that goes beyond the use of tick-box student support activities. In short, a holistic, institution-wide, integrated approach to student success was advocated.
Over the two days, the six institutions shared details of initiatives targeted at improving student success, identified cross-cutting challenges and barriers related to student success, and collectively highlighted lessons learned. Various institutions shared information about useful resources and tools that they had developed and proposals for addressing institutional challenges were advanced. Among these, was the Institutional Student Success Framework, developed by Wits to undergird the systemic, approach to student success that they have adopted.
Figure 1: University of the Witwatersrand Institutional Student Success Framework
In 2019 the Wits Institutional Framework was approved. As can be seen in Fig 1. this systems thinking design is conceptualised around four key areas of support with the student located at the centre. To start with, Wits identified a number of institutional initiatives and support services that were already in place, but which were fragmented and uncoordinated and not working optimally to the benefit of the student. The development of the Institutional Student Success Framework, which has as its aim, proactive support to increase rates of student retention and completion in an integrated way across the whole university system, has led to the breakdown of the siloed initiatives and led to a more integrated approach to the implementation of student support services and mapping of the student experience.
In sharing their student success initiatives and challenges encountered in implementing various interventions, it became clear that that, students attending institutions located in the more rural provinces of South Africa such as, the University of Venda (UNIVEN), University of Limpopo (UL) and the University of Mpumalanga (UM) comprise mainly first generation students, typically from quintile 1-3 schools. These students often require much targeted support to orientate them to all aspects of university life, both academic and personal.
UNIVEN presented its institutional throughput and dropout rates for the 2010 to 2015 cohort, as seen in Fig. 2, below. The university's graduation rate for the 2011 cohort was low (52%) while the dropout rate was high (43.8%). However, as a result of targeted student support services, a steady increase in the percentage of students graduating and dropout rates declining, was evidenced in the period, 2012 to 2015.
Figure 2: UNIVEN Throughput and dropout rates for six student cohorts
The University of Mpumalanga raised the issue of increasing workloads and a chronic lack of human resources as areas of concern. Their First Year Experience programme as well as their Tutorship programme and the support interventions offered by the UM writing centre, are all being coordinated by a single person, which is clearly untenable. This points to the need for universities to acknowledge the importance of providing appropriate student support and of prioritising investment in student success interventions, including making the necessary HR appointments as well as targeting capacitation of support staff. However, despite the challenges highlighted, many participants commented on the fact that given that UM had only been established nine years ago, in 2014, the progress made by this young university towards the establishment of student success support programmes, was impressive.
The Vaal University of Technology's (VUT's) presentation of its language policy stimulated a lot of interest and engagement from the audience. Aligned to the DHET language policy that encourages the use of at least two African languages, VUT recognises English, SeSotho and SePedi as its official institutional languages. A survey conducted by the university confirmed the choice.
All policy documents and official communications with staff and students are translated into these three languages. The three languages are also used as the languages of teaching and learning (LOLT) during tutorial sessions. Study guides in certain programmes have also being translated and glossaries and videos with subtitles are being developed to provide learning support. VUT reflected that the introduction of the two African languages is viewed as an enabler of student success and has also contributed to enhancing greater equity.
Across the institutions present a range of common challenges related to student success and student support were highlighted, these include:
A lack of institutional accountability vis a vis courses identified as high-risk.
Inadequate capacity in the area of data analytics necessary to establish evidence-based decision making.
A lack of tools to identify essential academic interventions needed.
A lack of an integrated approach to student support services to maximize the impact of interventions.
Inadequate infrastructure and resources for remote teaching and learning, particularly during the Covid-19 pandemic.
While a number of challenges were discussed, overall, it was very encouraging to engage with the many positive interventions proposed and/or currently being implemented by some of the participant universities. For example, in response to a number of universities that highlighted a lack of measurement and data related to the uptake of student support programmes in their institutions, Wits showcased the predictive analytic system it has developed for measuring student success and capturing intervention data and trend identification.
Figure 3: Extract from the 2022 Overview Report showing data on a range of support interventions implemented at Wits.
The predictive analytics system developed by Wits identifies first-year students at risk of failing. This information is then shared with advisors to enable them to implement relevant support interventions. Data presented in Figure 3, suggests that the interventions implemented can be positively associated with student success.
Collectively, a number of proposed solutions to various institutional challenges encountered by the participating universities were also presented. These include:
The development and approval of a student success policy which serves to put student success onto the institutional agenda and as well as providing guidance on implementation.
The use of data to inform support programmes.
The implementation of an academic and faculty advising service to empower and provide dedicated support for students to achieve academic success.
The design and implementation of custom-made interventions such as, academic, monitoring and support to enable the faculty to understand its student profile and throughput rates informed by the emerging empirical evidence.
The planning and implementation of accountability strategies through departmental committees that oversee and intervene in high-impact modules.
Adopting a reflective practice approach to student support services.
The effective use of technology as a tool to support the implementation of teaching and learning.
Deliberations during the meeting particularly focussed on key systemic considerations for the enhancement of student success within South African higher education institutions. The challenges shared with the network and proposed solutions forwarded presented valuable contextual insights into focus areas for further engagement and possible future network interventions. A few key takeaway points from the gathering include:
The importance of institutions having a holistic, integrated approach to student success to maximise the impact.
Integration of the student's voice across the institutional student success committees remains an issue that is encouraged by the Siyaphumelela initiative. This notion also resonates with Professor Lindelani Mnguni's opening address in which he emphasised the importance of the inclusion of student perspectives to ensure, "authentic student success".
Impact analyses of the institutional student support programmes is a vital. Yet, many institutions do not have the necessary software for the early identification of students that need support, therefore, software such as Radar and Autoscholar offered by Nelson Mandela University and the University of KwaZulu-Natal, respectively, may be of interest and should be further explored.