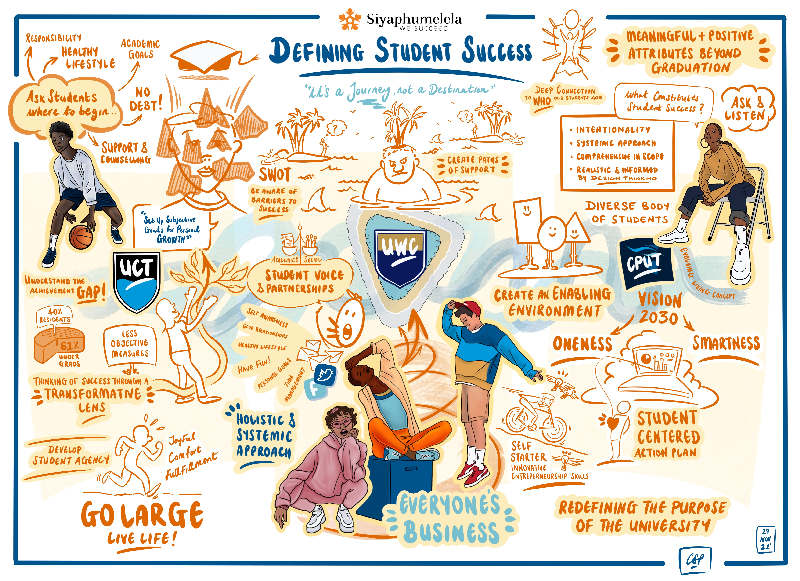 Siyaphumelela Partner Highlights 2022
Fatima Rahiman
Attended by approximately 270 delegates, the virtual Siyaphumelela Conference 2022 proved once again to provide an engaging platform by incorporating a wide spectrum of voices from both within the higher education sector in South Africa and beyond.
From traversing the inspiring keynotes to the sharing – 'generous' sharing, as one delegate remarked in our feedback survey - of the partner institutions' student success interventions along with the concurrent paper sessions which showcased a plethora of related evidence-based research and promising practices, the conference enabled a fecund space for the heartfelt and thoughtful musings on these critical student offerings.
We will be sharing a series of articles that emerged from this space that spawned many stimulating discussions and insights on student success interventions. For now, take a look at some of the highlights of the Siyaphumelela institutions.
DUT
In a recorded video presentation, Prof Sibiya, DVC Teaching and Learning at Durban University of Technology (DUT) highlighted DUT's strategic plan viz. Envision 2030 which describes how the  Siyaphumelela project is aligned to DUT's  identified student success challenges (see Table 1 below). 
Promoting the notion of adaptive graduates, is a key intent of DUT's strategy and vision. To demonstrate this commitment, a collage of student and academic voices bore testimony to this vision by showcasing their involvement in co-curricular activities, aimed at developing adaptive graduate attributes.
Table 1: DUT student success challenges
Watch this inspiring presentation titled Success beyond the classroom: Developing adaptive graduates at DUT 
UWC
The University of the Western Cape (UWC) followed in a similar vein with their DVC Academicoutlining their Phumelela @UWC initiative followed by  very moving student reflections on their first-year experience as well as their encounters with the mentorship programmes. Prof Sue Parker then described UWC's engagement as a partner in the Siyaphumelela programme and shared their  five step approach that was used to address challenges in the  sphere of student success. See the rest of their Data-informed actions to support year 2 of Phumelela@UWC Siyaphumelela 2.0 project.