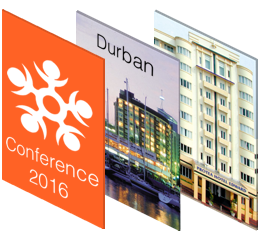 Siyaphumelela Conference 2016
28 – 30 June 2016
2nd Siyaphumelela Conference and Workshops
Protea Hotel Edward, 149 OR Tambo Parade, Durban, South Africa
Promising practices towards systemic interventions for student success
This year's conference builds on the highly successful inaugural conference in May 2015 and will feature a number of international speakers as well as key role players,including students, in the field from South Africa. While the work of the five Siyaphumelela grantees will be profiled, we are keen to hear of promising practices from a cross-section of universities in South Africa.The conference will be preceded by three concurrent workshops: there is no cost to attend the conference and workshops, but delegates will be responsible for their own travel and accommodation costs (places are limited).
This conference will explore
Extending our understanding of factors in student success
Supporting success in student learning through data analytics, including early warning systems
Exploring the ethics of data analytics
Building a community of practice for student success.
Background
In 2014, the Kresge Foundation invited South Africa's public universities to apply to participate in the Siyaphumelela – we succeed programme aimed at enhancing the use of data analytics to improve student retention and success in higher education. The selected universities (Wits, UP, UFS, NMMU and most recently DUT) have provided a plan to improve their institutional capacity to collect and analyze student data and integrate it with institutional research, information technology systems, academic development, planning and academic divisions within their institutions to increase student success. The Foundation will provide up to four years of institutional support, plus potential bonus grants, to the participating universities. Funded universities will join the Siyaphumelela network and will be required to agree to abide by shared goals to help improve the nation's ability to use data to drive student success.
Specifically, the goals of the Siyaphumelela programme are to:
Improve capacity to collect student data and integrate it with Institutional Research, Information and Communication Technology (ICT), academic development, planning, student support and academic divisions.
Create South African models of universities using successful data analytics to improve student outcomes.
Create a greater awareness and support for data use to improve student success in South Africa (collaborating with existing and new South African national initiatives wherever possible).
Create and highlight a shared vocabulary and consensus on especially effective practices to improve student success.
Enlarge the cadre of experienced data analytics professionals supporting student success.
Each year, the Siyaphumelela programme will host a national conference to enable the sharing of lessons of experience from the five institutional projects as well as to engage with other national initiatives such as the Department of Higher Education and Training Teaching and Learning Grants, the Council on Higher Education's Quality Enhancement Project as well as the many exciting initiatives being undertaken by individual institutions to enhance student success and achievement, such as the South African Survey of Student Engagement (SASSE) at the University of the Free State and the various initiatives and discussions that fall under the broad ambit of the South African Higher education Learning Analytics Association (SAHELA).
The launch conference in 2015 represented an opportunity to begin to weave together these various strands into a national discourse.
The 2016 conference will continue this discussion but hone in on developing a better understanding of emerging practices that will contribute to successful systemic interventions aimed at promoting student success. These reflections of practices will be underpinned by the recognition of the student voice as an integral component of such initiatives.
Deadlines:
Registration by 30 May 2016.
Abstract submission by 25 April 2016.