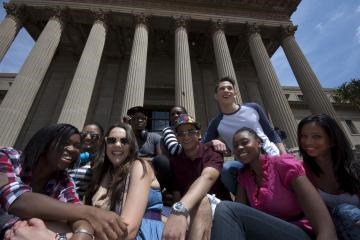 Wits FYE response to survey
The opinions of first-year students about their total learning experience at university are sought by most educational institutions worldwide, generally in the form of a satisfaction feedback questionnaire. Against the backdrop of high drop-out and student failure rates at the undergraduate level in South African universities, such feedback is vital in helping universities to put in place responsive mechanisms that address student needs through the necessary support mechanisms. An interesting aspect of student satisfaction surveys is their link to quality control, given the increasing number of students enrolling in South African universities, it is important to maintain quality in teaching and research programmes as this is a strong determinant in accessing more government funding.
Drawing on surveys conducted by the Strategic Planning Division at Wits between 2011 and 2013 on first-year student experience, a meta-analysis was conducted in 2016 as part of the Siyaphumelela project initiative.
Site Visits: Wits & NMMU




Saide (as the backbone organisation) of the Student Success project funded by Kresge, combined their annual site visits with Dr Jan Lyddon's coaching sessions at the various Partner Institutions. Dr Ephraim Mhlanga accompanied Prof Alan Amory to NMMU while Dr Najma Agherdien joined the Wits University visit. The purpose of these visits is to get feedback on progress at institutions and to identify areas where support is needed.

Ethics Symposium

The issue of collecting, using, sharing and managing data holds ethical implications that warrants mindful consideration by all Siyaphumelela partner Institutions. To this end, Saide organised an Ethics symposium in October 2016,  held at Kopanong Hotel & Conference Centre in Benoni, Johannesburg . The twofold objective of the symposium was to understand the ethical use of student data by the South African higher education sectors and to develop a draft policy to support the use of student data analytics.

Seeing Students as People in the World

As part of the Kresge Foundation (Siyaphumelela) project, the Wits University introduced a comprehensive Biographical Questionnaire on students' school and personal backgrounds, to enhance the understanding of how a student's socio-economic background would influence his/her chances of success at university level. This questionnaire collects comprehensive data on a number of variables in relation to student background including: home location; form of dwelling space; learning-enabling facilities at home and at the high school where the student matriculated; and various details of home-background information(i.